The Background
A photographer, multimedia artist, and photo retoucher, I have been snapping photographs since 1991, while I began digitally manipulating images and designing computer art in 1998. My passion for photography started with a 35mm film camera, followed by APS film, and now digital (although I still use film occasionally for a creative challenge).
The Composition
With my interests expanding beyond art and photography into graphic design, video editing, writing, and computer technology, I pursued a degree to encompass all of these skills, earning a Bachelor of Arts in Multimedia from Lewis University. I also hold an Associate in Arts from Joliet Junior College and have completed all the classes for the Certificate of Digital Photography.
The Exposure
I have won over 150 awards and recognitions for my photographs and artwork throughout the past fifteen years, many of which were ribbons at county fairs. Additional honors include:
My photograph To the Barn was accepted into Gallery 7's Open Lens VII Juried Exhibition of Fine Photography, where it also won an honorable mention award
First place publication for graphic design in Windows Fine Arts Magazine Volume 1, Issue 26 with my edited image The Laura Nontuplets
2005 Recipient of Lewis University's Senior Award for Multimedia
I have also sold several framed and matted prints of my fine art photography, with my top-grossing piece being The Heart of La Grange, which was also exhibited in Open Lens VIII at Gallery 7.
The Shot
If it would be accurate to say I moonlight as a photographer, then I daylight as a Photoshop Artist! I have been working in the digital imaging and photo finishing industry since 2008 at an actual brick-and-mortar photo shop, where I digitally retouch modern images, restore old damaged photographs, and graphically design internal advertisements and product packaging, as well as create designs for customer collages and photo gift items.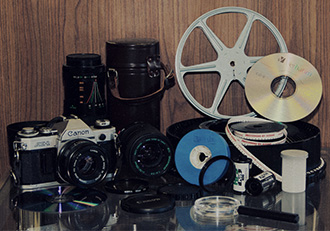 In addition to the photographic artwork and design, I routinely digital image all types of vintage film, perform photofinishing procedures in the photo lab, and convert analog audio and video to digital format. This position enables me to regularly handle types of negatives and films that the modern photographer has never seen nor heard of!
Additionally, I worked both on and off site with our sister camera store between 2009 and its closing in 2018, providing my photo restoration, graphic art, and Website design services.
My previous experience includes an administrative position, in which I was initially hired to build the company's first Website. I maintained and updated the Site through the business's lifetime, shooting all of the pictures and videos displayed on each page, as well as writing all of the information contained throughout the Website. One of my other main job duties was designing all of the marketing materials and creating the business signage.
In 2007, I started my freelance business Dusk til Dawn. My initial services included restoring old photographs, creatively manipulating images, designing graphics and business logos, producing photo montages for wedding couples, and building starter Websites for small companies. In 2012, I officially expanded into event and location photography, which prompted a name change.
The Developing
I initially worked as Photography-n-Art thru Brown Eye Green Eye for my contracted photography jobs, and then Painting with Dawn's Light for my personal photo projects, before merging both into Juxt Moments Before Dawn Photography, which was inspired by my before dawn til after sunrise time lapse series shot in cities throughout the world. It is also a reference to the medley of subjects I photograph, as viewed before my brown and green eye. Finally, the name reflects my focus of both creative composition – especially my style of juxtaposing different elements together – as well as editing images pixel perfectly. Remember that:
They are just Moments Before Dawn photographs & develops them into pixel perfect photographic memories
The Perfect Image
Having vast personal interests and a multitude of favorite subjects to shoot, my professional photography quickly expanded quite similarly. Like many photographers, I have been known to go to great lengths just to capture the unique image I envision.
I have shot photography:
For everyone from families with small children through older anniversary couples, to school districts and churches, as well as retail stores and professional businesses
At everywhere from as close as walking to a local village hall meeting and as far as flying for a destination wedding in Mexico
On everyday from newborn hospital photos to a formal 95th birthday reception, and a brand new building shining bright at its public debut to a dark dilapidated facility deserted 30 years ago
With everybody from an engaged couple posing for portraits against a backdrop under studio lighting to a toddler with his pig on-location at a farm, through a musician singing to his brother and mom during the mother/son dance at a wedding reception to farmers hard at work harvesting their field of crop
I have captured photographs:
From everyplace between underwater in the Caribbean photographing fish to high up in the sky taking aerial landscape shots out of a two-seat plane with no doors
Of everything as small as a macro flower pedal at a nature observatory to as large as a 180º stitched panoramic spanning across a room of over 50 people to capture every attendee in one image
In everyway from arranging menu items on a table at a local bar using location lighting to chasing a fast-paced alumni football game played under the stadium lights to a six-hour time lapse sequence with one minute brackets of snowfall covering a Chicago suburb
During everytime from sunrise time lapse sequences on a Jamaican beach and a pre-dawn venture to Medaryville, Indiana during the Sandhill cranes migration, through 1AM street photography in downtown Chicago and rural time exposures in the middle of a central Illinois cornfield at midnight
The Portfolio
Thus, my professional photography experience is very diverse and includes:
Weddings (ceremony, reception, on-location portraits)
Other traditional ceremonies, including First Holy Communion
Anniversaries, birthday parties, bridal and baby showers, rehearsal dinners, other celebrations and events
On-location lifestyle shoots of family moments and children milestones
Portraits of adults, children, and babies (ranging from newborn to almost 100-years-old), both in and out of a studio setting, including:

Bride and groom post-ceremony portraiture
Engagement photos
Senior pictures
Children's Easter bunny photos
Individual and group staff photos
Sports team photos
Head shots, passports, and foreign ID photos (with specific dimensions and required ratios)

Product photography for restaurants and retail stores, including food, drink, merchandise, and Ebay photos
Commercial and illustrative photography (and design) for professional businesses and not-for-profit organizations, including images used for:

Websites
Social media
Printed menus
Electronic menuboards
Product packaging
Large store signage
Print advertisements in newspapers, newsletters, bulletins, and mailers
Brochures, coupons, flyers, and other promotional sale items
Printed marketing materials, including business cards and event programs
3D marketing media, such as mugs, caps, and t-shirts

Interior and exterior architectural photography
Stock photography sold online
Fine art photography and other artwork sales