2021 Sub Photo Series:
Photograph Food from Every Single Restaurant in La Grange!
While doing my revamped photo of the day project this year, which was originally intended to focus more on small businesses and local places this time, I added a couple sub series. The main and most tastiest one is dining at (or at least ordering carryout from) every single La Grange restaurant in 2021.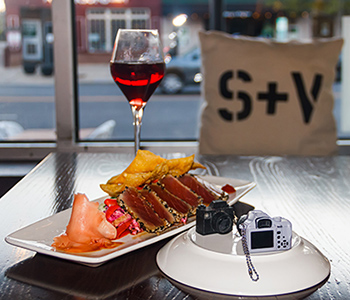 As places have opened back up as we approach post-pandemic life, I have been able to actually dine in many places again. I would prefer to "redo" photos that were takeout from earlier in the year, especially if the restaurant has a good ambiance, but we will see how it goes!
I guess this sub-project started with my thinking of, Which La Grange, Illinois restaurants have I never had food from? Or, which ones have I never actually dined in? Plus, there was also a lot of places I had not been to in a long while, the pandemic closures only increasing that time; so I felt like I had a lot of catching up to do with old "friends." As a small business owner myself, I wanted to do my part in supporting my favorite local eateries – or new ones I have discovered along this delicious journey!
This being a part of my 2021 View Before Dawn Photo Project has given the goal an extra meaning. It's not just someone taking a food shot from all these restaurants; it's my miniature camera keychains in every shot, visiting each establishment right there with me. In a sense, the Cameras have become like a done in-camera watermark, indicating it is my photo project!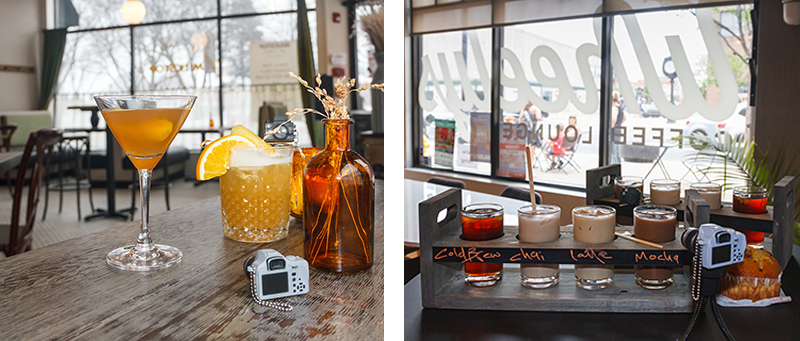 So, what is considered an actual "restaurant?"
Although I am photographing retail and wellness small businesses at times, too, and may end up visiting places I am not considering to be part of my La Grange restaurant list anyhow, I did decide on a set of rules.
A "La Grange Restaurant" is defined as: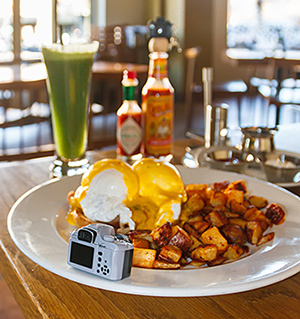 Patrons can dine in (aside from the pandemic) to eat food that is homemade or mostly prepared at the establishment. Or, if there is no dine-in at a takeout-only restaurant, the place must either serve:

A full meal (or at least a protein)
An "immediate consumable" made on site, such as a mixed juice drink or cold dessert

The majority of the business model must be immediate food service, not retail sale of food packaged for later, nor bulk meal plans.

Thus, the food they serve is intended for individual, immediate consumption while still hot from cooking or before melting – whether dining in, picking up a carryout, or receiving a delivery.

Aside from special instances which may require reservations, customers are able to walk in (or call) and order a food item on the spot, which will be prepped for them upon ordering.
Lastly, and most important, the business must have an address in La Grange, Illinois and be considered part of La Grange in terms of village ordinances, business associations, etc. This includes restaurants in:

Downtown La Grange
The West End
The South La Grange Road district, before it crosses over into Countryside
I referenced the restaurant directory on both the village website and La Grange Events page, updating it with newer places through Google Maps, to make sure I didn't miss any place I wasn't familiar with that would fit the first three of these rules.
You can see me eating away at "All La Grange Restaurants At Dawn in 2021" on my Facebook page.
---
UPDATE — June 9th, 2021
Progress
Currently, I have 14 "official" restaurants left that I have not taken either a dine-in nor carryout picture of for my 2021 View Before Dawn photo of the day project featuring "Kwanon and Vollenda Camera," as well as two new places in town that have not yet opened. There is around 10 additional places I would like to redo with a better composed dine-in shot, if possible before year end.
I also am in the process now of creating a new separate Facebook album to hold only the La Grange Restaurant Photo-of-the-Day's. Follow my Facebook Moments Before Dawn to see when it posts, or check back here later for an updated link. Until then, check out the hashtag I just started using for new entries made in this sub photo-of-the-day series: #AllLaGrangeRestaurantsAtDawn2021.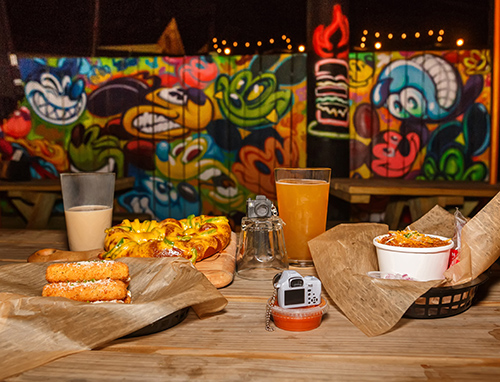 ---
UPDATE — July 17th, 2021
Updating Categories
Today, I updated my categories in the project to reflect changes in the service type of a couple restaurants, as well as to better group local restaurants without full table service that I decided I still prefer to take a dine-in photo at, in order to make my ongoing count of re-shoots/re-eats easier to maintain the updates for.
The definition of what a restaurant is remains the same, but my new category breakdown for the 53 restaurants in La Grange is as follows :
27 places have a dine-in option with waitstaff and "Table Service" (2 of which I photographed for the project are now permanently closed)
11 places are "Casual Dining," which I am now defining as: small locally-owned businesses where you order at a counter (instead of with a waitstaff).

Most of these restaurants deliver the food to your table after ordering; they use real silverware and china plates, and the food may take longer to prepare.
There are a couple, however, more fast food style restaurants where you both order and pick up your food at the counter (see full definition next) – but I decided to regroup them with my Casual-defined local restaurants for simplicity of tracking places I prefer a dine-in photo for in my project.

8 places are national "Chains"

6 of these meet my "fast food" definition, where you both order and pick up your food at the counter. These places use throwaway wrappers, silverware, and cups. Food is either not made to order or prepped in a faster manner.
The other 2 Chains are more the "casual dining" concept, as defined above in regards to the model followed by most local businesses without full table service.

5 local places are "Takeout-Only," pandemic rules aside:

2 always were with no dine-in tables
+ 1 former table service dine-in place AND 1 casual dining/fast food local restaurant have both maintained that model
+ 1 local casual dining/fast food place that I ordered only carryout from is now permanently closed, allowing no-dine in option upgrade; thus, for simplicity, I am labeling it as Takeout-Only in my project

2 known places have yet to open but are slated to this year.
As of July 17th: 43 of La Grange's Restaurants have been photographed as a part of my 2021 View Before Dawn Photo-of-the-Day Project, with either a carryout OR dine-in photo. Restaurants with dine-in and carryout photos are currently tied at 28, with 13 places that have had both.
Currently, there are 8 open-for-business restaurants in La Grange that have not had neither a carryout nor dine-in photo taken during my project this year (the count does NOT include the two new restaurants coming soon). Additionally, there is at least 4 places I would like to redo a dine-in photo at, since it is my goal to do dine-in photos for all local Table Service and Casual Dining restaurants.
Last month, I created a special album on my Facebook page to hold only the "All La Grange Restaurants at Dawn in 2021" sub series images. Click here to see all my current photos in the project.